Tony Kosoko BSc (Hons) Physiotherapy
PgCert (Sports): MMACP
MCSP: HCPC Registered
Specialist Musculoskeletal Physiotherapist
Strength & Conditioning Coach
Founder/Director /Lead Clinician The Practice since 2003
Physiotherapy Specialist Areas
Sports Injuries
Dance Injuries
Men's Health Physiotherapist
Hypermobility Syndromes
Tempero-Mandibular (Jaw) Joint Disorders
Pilates: Clinical, Studio and Mat teacher
Level 4 Strength and Conditioning Coach
Olympic Weight-Lifting Coach
Crossfit Level 1 2010
Taekwondo Coach/Taekwondo Black Belt 1999
Ex-professional dancer graduate of the Northern Ballet School
I was fortunate enough to study dance and music at primary school and went on to study at The Northern Ballet School in Manchester.
I danced professionally for 11 years in companies in Italy, Spain, Japan and the U.K before retiring in 1991.
Returning to education at this time I studied Physiotherapy at Kings College University, London graduating from the 4-year honours degree in 1995.
There followed 6 years working in the NHS at two of London's leading teaching hospitals where I gained experience in all areas of physiotherapy including pediatrics, stroke/head injury rehabilitation, orthopaedics and musculoskeletal (MSK) out patients physiotherapy.
In private practice I have worked for many diverse institutions including Rambert Dance Company, Mercy Cunningham Dance Company and Shell Oil Company.
I have to date 24-year experience as a physiotherapist and over this period my own post -graduate study has been extensive including continuing professional development (CPD) in Musculoskeletal Physiotherapy, Sports Physiotherapy, Acupuncture, Pilates, Real Time-Ultrasound, Clinical Pilates and Men's Health Physiotherapy.
I have been a member of the Musculoskeletal Association of Physiotherapists (MACP) since 2011. MACP physiotherapists have all undertaken extensive post-graduate study and reached a recognised standard of excellence in neuro-musculoskeletal physiotherapy.
In addition to Physiotherapy I have also extensive experience in the fields of Sports Strength and Condition and Martial Arts Coaching.
In my capacity as Strength and conditioning Coach I see recreational exercisers through to high-level athletes in the fields of Dance, Martial Arts, Olympic Weightlifting and Crossfit.
My role is diverse in that I see clients in clinic who present with musculoskeletal problems including neck and back pain, sports injuries and men's health problems such as chronic pelvic pain. 
I also see clients in our in house Pilates studio for specific rehabilitation.
Many of my clients are then seen in a gym environment at Westway Sports Club where I develop and deliver sports specific Strength and Conditioning programmes.
I have a special interest in Women's Strength and Conditioning especially for pre and postmenopausal women. 
In my spare time I play guitar (Jazz) electric bass and double bass (Classical and Jazz).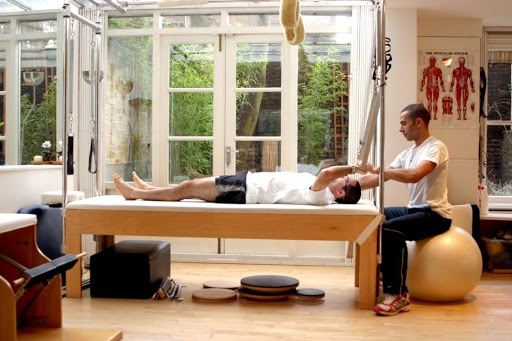 Tony Kosoko at work in our in house Pilates Studio.
Back to Blog