Physiotherapist
BSc(Hons) Physiotherapy MSc Physio HCPC Reg MCSP
Pilates Certified Rehabilitation Practioner PMA certified
Book Ellen
ELLEN ERNSTZEN
Ellen trained as a Physiotherapist in London from 1992 to 1996. She obtained a honours degree in Physiotherapy ( 4 year course) at University of East London based at the Royal London Hospital. She worked in the NHS covering all the inpatient rotations, Respiratory, Neurology, Paediatrics , Medical and Surgicalrotations at Hammersmith Hospital. She then went on to a Senior
Musculo-skeletal outpatient rotation at The Whittington Hospital. Her final NHS post was in the management of lower back pain in a central London community trust. Following this she went into private practice to work with all musculo-skeletal problems and trained to teach exercise for rehabilitation. She trained with Polestar Pilates in 2001 to teach Pilates Studio exercise for Rehabilitation. After 10 years of clinical practice she began a Masters in Physiotherapy and completed it in 2009. Her dissertation was on Achilles Tendinopathy and she received a distinction for her dissertation and overall Masters degree. Ellen has over 25 years experience as a physiotherapist and 20 years of teaching Pilates.
She is working at The Practice on Tuesdays and Fridays.
Ellen has experience working with children and elders. Ellen is experienced working with all injuries and people of any fitness or sporting level. She has worked with elite level gymnasts for years. Ellen has a particular interest in holistic management of pain and a strong element of treatment will be movement re-education. She is also interested in Osteoporosis, management of arthritis and any condition that is causing a problem to day to day function. Ellen will try her absolute best to get you the best possible outcome for your particular problem.
You will play a large role in your rehabilitation and treatment plan.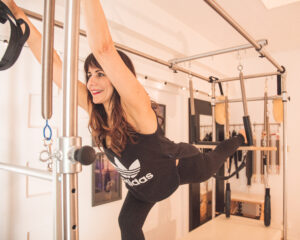 Back to team